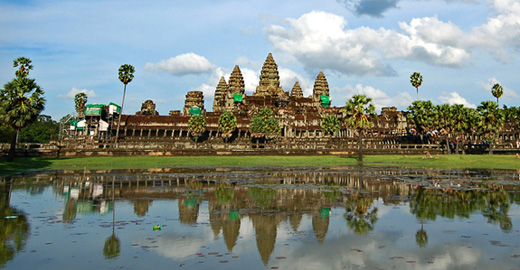 Nestled between rice paddies and stretched along the Siem Reap River, the small provincial capital of Siem Reap Town serves as the gateway to the millennium-old temple ruins of the Khmer Empire. Designated a World Heritage Site by UNESCO, the Angkor Archaeological Park encompasses dozens of temple ruins including Bayon, Banteay Srey and the legendary Angkor Wat whose artistic and archaeological significance and visual impact put it in a class with the Pyramids, Machu Pichu and the Taj Mahal. Unlike many other world class monuments, the ruins of Angkor are as yet unspoiled by over-development. This will not be true in a couple of years. Though the major temples are relatively well tourism these days, it is still possible get away from the crowds, to explore the area and discover Angkor.
Siem Reap Town is where you will stay during your visit to Angkor. The area has been receiving foreign visitors to the temples for over 100 years. The town is actually a cluster of old villages, which originally developed around individual pagodas, and later overlaid with an French colonial-era center. Note the colonial and Chinese style architecture in the town center and around the Old Market. Nowadays, Siem Reap offers a wide range of hotels, restaurants, pubs and shops including several upscale hotels and dozens of budget guesthouses. Often missed are the many opportunities to experience traditional Cambodia: Apsara dance performances, craft shops and silk farms, road tours through rice-paddy countryside, boat trips on the great Tonle Sap Lake to fishing villages and bird sanctuary, and much more.
Siem Reap Fact File
Country Name: Kingdom of Cambodia
Motto: Nation - Religion - King Capital
City: Phnom Penh
International Airports: Phnom Penh, Siem Reap
Language: Khmer, secondarily English and French
Ethnic Groups: Khmer (~95%), ethnic-Vietnamese, ethnic-Chinese, Cham, several ethno-linguistic minority groups ('hill tribes in the northeast.
Religion: Theravada Buddhism (~97%), Islam, Christianity, Animism, Caodaism
Population of Cambodia: 13.1 million (2001 est.)
Land Area of Cambodia: 181,035 km2
Population of Siem Reap province: 798,546
Land Area of Siem Reap province: 10,299 km2
Currency: Riel (~US$1=4050R). US dollars are as commonly used as riel
Voltage: 220v/50Hz
Time Zone: GMT +7 hours
Business Hours: 7:30-11:30 / 2:00-5:00 Closed Saturday afternoon and Sunday
Visas & Entry Requirements
A passport with at least four-month validity is required. A visa is required for most nationalities. One-month visas are available on arrival at the international airports in Siem Reap and
Phnom Penh
, and at border crossings with Thailand and Vietnam. Visas are not available at the crossing with Laos. Tourist visa: US$20. Business visa: US$25. Diplomatic, Official, Courtesy, and Special (Cambodian) visas are issued free of charge. One 4x6 photo is required.
Tourist visas can be extended for one month, but only one time. Business visas can be renewed indefinitely. Renew visas through a travel agent or the Department for Foreigners on Confederation de Russie (Airport Road, located opposite
Phnom Penh
International Airport. Tel:
012-581558
. Fax:
023-890380
. E-mail:
visa_info@online.com.kh
To & From Siem Reap
There are direct international flights to/from Bangkok, Singapore, Ho Chi Minh, Kuala Lumpur and Vientiane. There are also several daily flights from
Phnom Penh
and a daily river ferry. By road, Siem Reap may be approached from
Phnom Penh
and from Thailand via Poipet.
Siem Reap: Arrival /Departure
Airport Departure Tax Domestic: US$6 International: US$25
Siem Reap International Airport: Just outside the terminal is a ticket booth for transportation into town. Motorcycle taxis are $1. Car taxis are $5. The price is the same even if you deal with the drivers directly.
Siem Reap Ferry Dock: The ferry to Siem Reap arrives at Chong Khneas near Phnom Krom, 12km south of Siem Reap. There is always transportation waiting at the dock. Mototaxis charge about $1 - $2 and cars $4 - $5 for the 15 minute ride into town.
Orientation to Siem Reap: Siem Reap Town stretches about 2km north/south along the Siem Reap River and roughly 3-4km east/west along Rte. #6. The airport sits 6km from town. The main temple complex lies about 5-10km north of town. All of the hotels are in or near town, and are spread relatively evenly across the town, though there are still concentrations in certain parts of town: 1) there are a variety of hotels, shops and restaurants near the Old Market; 2) several large upscale hotels between the airport and town along Rte. #6; 3) two budget oriented areas: one along 'Wat Bo Road and the other in the Taphul Village area; 4) a variety of mid-range hotels and restaurants along Sivatha; the Phsar Leu area 2 km east of town center.