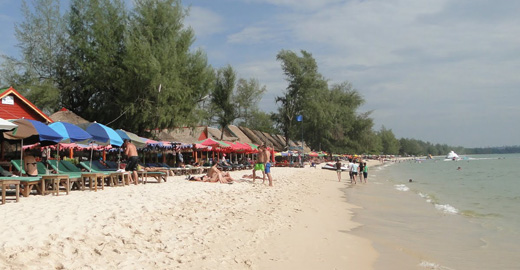 'Beach town', 'port community', 'fledgling resort destination' - all describe Sihanoukville, Cambodia's premier beach town. Sihanoukville's white sand beaches and warm Gulf of Thailand waters combine with a laid back, beach atmosphere to provide a great little tropical getaway. Sihanoukville is a place to unwind by the beach, enjoy the fresh from-the-ocean seafood, take in a snorkeling or scuba trip, and generally slow-down, lay back and chill-out.
Sihanoukville has a different look and feel than most Cambodian towns. Constructed as a port city in the late 1950s, the town is much newer, more urban and cosmopolitan than most Cambodian provincial cities. Nowadays, Sihanoukville is as much a beach town as it is a port town, catering to beach-going weekenders from
Phnom Penh
as well as a steadily increasing number of foreign visitors. Still, the pace of life in Sihanoukville is very relaxed. Cows occasionally wander the main road, outside town foreign faces draw smiles and curious stares, and most of the beaches offer only beach umbrellas, thatched roofed eateries, and a few restaurants and hotels.
Still, the area has a more than ample supply of accommodations, including a brand new resort complex on Sokha Beach, several mid-range places downtown and at the beaches, a few 'upscale' three-star hotels, and dozens of budget guesthouses, especially on Weather Station Hill. Considering the moderate number of visitors to Sihanoukville, the town offers a surprising number of restaurants and bars. Fresh seafood, especially crab, prawns and ocean fish, has always been one of the town's biggest draws, but there is also a wide variety of places offering foreign cuisines - Australian, French, Indian, German, Sri Lankan, British, Italian, pizza places, a couple of western bakeries and even a proper espresso coffee shop. And these days Sihanoukville has something of a night life as well, with several bars, many with pool tables and a couple offering parties, movies and music, staying open into the wee hours, a couple of small Cambodian-style clubs open past one AM, and a casino running 24 hours a day.
Sihanouk Ville Fact File
Country Name:
Kingdom of Cambodia
Motto:
Nation - Religion - King
Capital City:
Phnom Penh
International Airports:
Phnom Penh,
Siem Reap
Language:
Khmer, secondarily English and French
Ethnic Groups:
Khmer (95%), ethnic-Vietnamese, ethnic-Chinese, Cham, several 'hill tribes in the northeast.
Religion:
Theravada Buddhism (97%), Islam, Christianity, Animism, Caodaism
Population of Cambodia:
13.1 million (2001 est.)
Land Area of Cambodia:
181,035 km2
Population of Sihanoukville:
187,688
Land Area of Sihanoukville:
868 km2
Currency:
Riel (US$1=3920R). US dollars are as commonly used as riel
Voltage:
220v/50Hz
Time:
GMT +7 hours
Business Hours:
7:30-11:30 / 2:00-5:00
Closed Saturday afternoon and Sunday
Climate
Practically speaking, Cambodia has four seasons: 1) December-February, cool/dry; 2) March-May, hot/dry, 3) June-August, hot/wet; 4) September-November, cool/wet. The hottest days of the hot season rarely climb above 35°C and the cool season may push the mercury as low as 20°C. Sihanoukville tends to be breezier and a bit cooler than the rest of the country.
To & From Sihanouk Ville
There are no regular flights to Sihanoukville. Most people travel from
Phnom Penh
by bus or taxi (3-4 hours). From the Thai border crossing at Koh Kong, either ferry (4 hours) or taxi (6 hours) to Sihanoukville. See transportation page for more. Also see the overland travel page for additional information on getting to Sihanoukville overland from Thailand.
Arrival in Sihanoukville
Bus from Phnom Penh
Bus passengers are let off at the bus station near the center of downtown. Though there are several hotels within walking distance, to get to a beach hotel or Weather Station Hill you will need to take a motodup.

Ferry from Koh Kong
The Koh Kong ferry dock is a couple of kilometers from the nearest tourist facility. Motodup: 2000-3000 riel to Weather Station Hill. $1-$1.50 to downtown. $1.5-$2 to Ochheuteal/Serendipity Beach. Motodup prices from the bus/ferry are higher than ordinary motodup prices..
Orientation to Sihanoukville
The main body of Sihanoukville is spread thinly across a peninsula-like spit of land, surrounded on three sides by beaches. Near the center of the peninsula, 1-3km from the beaches, the downtown area contains the main market, hotels, restaurants, bus stations and other businesses. Hotels and restaurants can be found across the peninsula, but many are concentrated into three areas: 1) downtown, about 5 minutes from the beaches by moto taxi. Mid-range hotels, restaurants and bars, the main market, banks and convenience stores; 2) Ochheuteal and 'Serendipity beaches with a couple of the town's best hotels, several mid-range places, and lots of bungalows at the Serendipity end of Ochheuteal; 3) Weather Station Hill (a.k.a. Port Hill, Victory Hill), where there are several budget guesthouses and restaurants. See the Sihanoukville Map.

More Information
Most guidebooks give Sihanoukville short shrift. The Future Port of Kampong Som, an obscure Ministry of Planning booklet published in 1959, gives details of Sihanoukville's early days. The most comprehensive treatment to date is Robert Philpot's guide, The Coast of Cambodia. Also checkout Adventure Cambodia (2nd ed.) by Matt Jacobson.